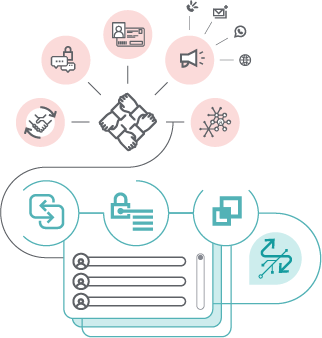 Cover new ground.
Unions
We provide a fully integrated client management platform to manage membership subscriptions, communications, accounts and claims for unions.
Our 'check off' payment method in addition to the standard payment types allows you to easily identify current, lapsed and prospective members for ballots and campaigns.
UNION FEATURES
Control over Membership Subscriptions and Renewals
Contact Profiling
Powerful record selection facilities
Extensive data export facility
Donation entry and reporting
Individual to organisation inter relationships
Individual or/and mass-communications
Communication history and recording
Web integration
Security access levels
AN INTEGRATED SOLUTION
Our platform provides an all-in-one solution for cross integration between different systems. Seamless data management and processing puts key information right at your fingertips.
Our fully integrated solution allows you to consolidate all aspects of your membership base in order to draw custom reports and improve your value offering. Access account information for specific branches or members at your fingertips.
TARGETED COMMUNICATIONS
Target specific members of the union with tailored communications and brand experiences. Ensure uniformity and consistency across all communication platforms with a range of templates, forms and scripted responses.
Synergy Army's call management system empowers staff to record and track enquiries, record communications and generally improve the service performance offered to your members.
SECURITY MATTERS
With multiple security options, you have full control over each user's access and the customer relations management they have available to them. Easily manage this with user-defined roles or, for ultimate control, tailor permissions for individual users.
Access control is paramount where potentially sensitive information such as bank details are being stored. A user can only log into Synergy Army with a valid user name & password combination.
Our security model goes even further – user credentials also define which modules an individual user can access and also, for those they have access to, what they can do i.e. create new records, modify existing records, report and export etc.
THIRD PARTY INTEGRATION
Our system is designed to allow seamless integration with Excel spreadsheets. Other integration options include address lookup, bank account validation, phone dialling and accounts packages.
CLAIMS WORKFLOW AUTOMATION
Synergy Army incorporates existing underwriting information into a fully integrated claims management process, tracking all transactions and automatically verifying premium payments and cover vs date of loss.
Our claims workflow involves the specification and resulting configuration of a series of validations and automated actions for the steps involved in the claims intimation and payment process.
The primary benefit of our claims workflow is the elimination of user mistakes and the prevention of "tasks falling through the cracks."
Second to this would be the benefit of a reduced need for micromanagement; and ultimately, increased efficiencies.