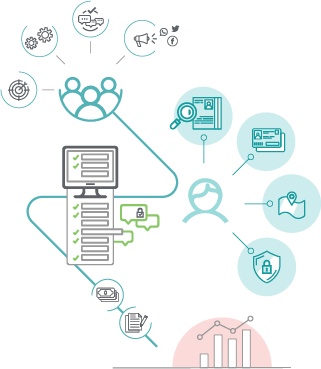 Full control at your fingertips.
Membership/Donations Programs
Synergy Army is a fully integrated Membership/Donations solution for trade unions, associations, professional bodies and charities.
Our powerful data and customer relations management platform gives you full control over large client bases. Synergy Army's integrated CRM platform enables your organisation to provide better informed customer service, retain and grow membership and enhance your communication to members.
We are focused on the needs of membership organisations and help to build strong partnerships with contacts, members and organisations. Our suite of packaged solutions is flexible enough to meet the most demanding needs and brings improved member services.
Our solution has all of the core functionality required to provide a comprehensive CRM solution with a core database of people, organisations and relationships and will enable you to know your members better, communicate with them more effectively and increase your income in a number of different ways.
MEMBERSHIP PROGRAM FEATURES
Secure communication records
Automated follow-up's
Fast and responsive CRM solution
Quick, easy and integrated functions
Web-based for anytime-anywhere access
Clear and intuitive user interface
Customisable configuration with a user-friendly dashboard
360 view of a member's profile through all engagements
Automated collections
AUTOMATED COMMUNICATIONS
Your SMS and e-mail correspondence to clients, service providers and other stakeholders can be automated based on client specification.
Through the strategic configuration and application of what is known as a trigger, submission of the relevant correspondence automatically executes when a pre-defined event occurs.
An example of this could be an automated SMS to a client on an unpaid premium or a notification to an assessor when appointed on a claim.
EASY DATA IMPORT
Import contacts in spreadsheet format and with any number of rows and columns. Synergy Army will automatically create the contacts with all data provided. You decide how to deal with duplicates.
Export your data into a custom structure that you define with the help of an intuitive user interface. No technical personnel needed.
CUSTOM REPORTING
Synergy Army will create pre-defined and on-the-fly reports available at any time, in the format that you need them. Reports can include any kind of contact and campaign specific data, also custom ones.
All analytics are created in real time, so you can take decisions in a timely manner. Create shortcuts for the analytics you need to have at your fingertips regularly.