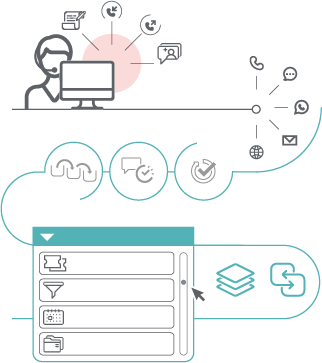 We've got you covered.
Insurance
Synergy Army provides a seamless solution to manage the administration around premiums for Insurers, Insurance Intermediaries and other participants in the industry.
We also add value through our extended range of complimentary services. In addition to policy, claim and commission administration, we offer financial accounting and reporting, money collections, management information, workflow and document management as well as databased segmentation with integrated e-mail and mail-merge functionalities.
You can be confident as an insurer that all the information will be on hand when you require it, and more importantly that you can trust the accuracy and interpretation of this information.
INSURANCE FEATURES
Communications using various channels like SMS, WhatsApp, E-mail and Voice
Automated follow-up's
Automated payment notifications to your customers
Any-day recurring billing and pro-rata collections
On-demand product billing
Automated retention handling
Premium accounting and reconciliation
Lead Management
Workflows
Flexible
Compliance
Self service portal
BUSINESS ANALYTICS FOR INCREASED PRODUCTIVITY
Increase the productivity of your sales team, with automated sales and lead overviews. With access to comprehensive stats on products, payments and leads you can track your conversion rates and ROI.
Reporting allows you to grow your business strategically and focus on strengths whilst addressing weaker aspects.
REDUCE ADMINISTRATIVE COMPLEXITY
Synergy Army processes premiums as single debits, including net premiums due to insurers, commissions, fees and value-added product (VAP) components – but each debit is split before reaching the insurer's bank account, with its individual components credited into separate accounts belonging to the end recipient of the portion of the premium.
For example, a policyholder's total premium can be made up of a motor premium (by Insurer A), homeowners premium (by Insurer B) and value added service, such as a windscreen protect plan (by Insurer C). There is also a commission fee due of 10%. The total premium is debited from the policyholder and automatically split, with the appropriate fee landing directly in the account of Insurer A, B, C and the commission due to the broker.
This means that commissions and VAP payments are done automatically and that a complex administrative balancing process is eliminated. Intermediary commissions are not collected into the insurer's account to be reconciliated later on. Reduce administration and bank charges through our one-stop payment plan, making a single payment for multiple Insurer premiums. This allows for flexible repayment options for your Insured Client and for brokers to receive upfront commission payments.
TAKE CONTROL OF ACCOUNTS AND COLLECTIONS
Our seamless premium collection service allows you to save time and money on administration and compliance – freeing you up to spend more time on meeting and serving your clients.
Easily collect premiums and track payments with Synergy Army's effective system to manage debit order, credit card billing and stop order EFT premium collections. Our system is fully automated and allows for custom integrations into your existing systems. Premium collection information is readily available through our licence-agnostic interface.
We offer a turnkey solution from customer communications to reconciliations and reporting. Stay on top of your game with automated messages, status reports and reminders to make billing manageable.
COMPLIANCE
The system has the functionality to capture and structure broker and agents in branches and business units as required. The structure is very flexible and can be made as complex or simple as required. Detailed information is captured for each broker including type of entity, and all qualifications, banking and personal indemnity information where applicable. The system allows for the linking of specific insurers and products to a broker, that way the broker can be managed to only sell and advise on products that they are allowed to sell.
CLAIMS WORKFLOW AUTOMATION
Synergy Army incorporates existing underwriting information into a fully integrated claims management process, tracking all transactions and automatically verifying premium payments and cover vs date of loss.
Our claims workflow involves the specification and resulting configuration of a series of validations and automated actions for the steps involved in the claims intimation and payment process.
The primary benefit of our claims workflow is the elimination of user mistakes and the prevention of "tasks falling through the cracks."
Second to this would be the benefit of a reduced need for micromanagement; and ultimately, increased efficiency.
REACH AUDIENCES THROUGH VARIOUS CHANNELS
Communicate to clients how and where they want to be reached. Schedule touch-points to ensure timeous responses and follow-up's. Effortlessly notify policy holders at every critical moment in the policy life cycle and track communications.
You have access to a detailed audit trail of all communications with your clients which is automatically attached to the particular policy holder's file. This also ensures that your PPR compliance is in check.
TAILORED SOLUTIONS
We have a proud tradition of innovation and of excellence in execution; qualities that we harness to create solutions that serve the insurance industry effectively, sustainably and in a compliant manner.
For more information on Synergy Army's premium collection solutions and what we can do for your business, please email us on
[email protected]
.